Are you safe from the newest threat to internet security: The Heartbleed Bug?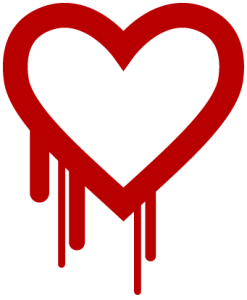 If you haven't heard of the "Heartbleed Bug" yet, you surely will in the near future. It's a vulnerability to open source server security that has been around for a long time but has only recently been caught by Google security.
The Heartbleed Bug affects the TLS/DTLS, (transport layer security protocols), that encrypt data and emails to and from servers. In a nutshell…hackers, aware of this flaw, can easily access emails, IMs, some VPNs, server information, business transmissions and worst of all, can intercept credit card transactions on websites.
Companies have scrambled with alarm to fix this breach, which consists of updating the OpenSSL library. This problem does not affect all servers, only ones that run Apache and nginx, but that's still well over half the usage on the market today.
For more in depth information, read:

  The Heartbleed Bug

  How To Protect Yourself From This New Terrifying Security Flaw Called 'Heartbleed'

  Also, RapidSSL has a great tech article on the Heartbleed Bug: Security Advisory – OpenSSL Heartbleed Bug

  If you're a Chrome user, you can download this great app that checks the sites you visit if they're protected from the Heartbleed Bug.
Safe surfing!
Share and Enjoy