Step out of the ordinary and into the extraordinary with this website presented by international spiritual medium, Debbie Edwards…Meta-Visionaries!
From her website: "Founded and created by International Spiritual Medium, Debbie Edwards, Metavisionaries.com is a network where Energy and Vision Meet! From contemporary to fringe topics, we're bridging the gap between science, medicine, healing and spirituality with people all across the globe who are making a difference in the lives of others; true visionaries- Teachers, Researchers, Scientists, Spiritual Masters, Healers, Authors, Pioneers for human and planetary healing and much more!"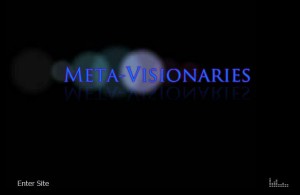 This site features a customized template with a hand tooled Flash driven intro, WordPress foundation, custom graphics and custom ogo which were all envisioned by Debbie Edwards and brought to life by Design Solution Pros!
We also worked closely with Debbie to add all kinds of specialty widgets and SEO to bring the functionality of her website way above the standard!


Sincerely,
Matt Rohnkohl
Owner at
d

esign

S

olution

P

ros
Share and Enjoy