We are proud to show the new updated site for Petroleum Transport, Inc.!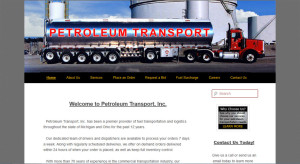 While they didn't need much more than an updated website, Design Solution Pros took their years old format and revamped it into a modern expandable website that meets their current and future needs! Based on a WordPress format, they can now easily update their site with fresh content with no need for programming knowledge or hiring a web guy to update it for them like their old site. We even hosted their site for them which included all their corporate email accounts!
A few of the specific requests made by the client were downloadable and printable employment application, a custom online order form and another custom online "request a bid" form.
With this new site, they can easily add pages, update content, modify images and promote their product with added features like a contact form, SEO, custom order forms and easy email links! If you can use Facebook, you can update a site like this!

Sincerely,
Matt Rohnkohl
Owner at
d

esign

S

olution

P

ros
Share and Enjoy